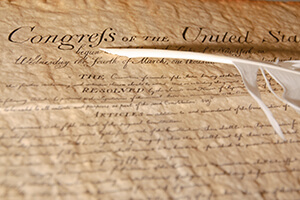 The best time to retain an attorney is immediately upon being suspected of a crime.
You may retain an Attorney at any stage of your case, regardless of the stage your case may be in. In some instances, it may be necessary to retain an Attorney after knowing there is an investigation implicating you in a crime. You may choose to be represented by a Public Defender/court appointed Attorney. This is an option if you cannot afford to retain a private Attorney. However, you may be responsible for the costs of the Public Defender/court appointed attorney at the conclusion of your case.
Do not speak with police!
It is important to remember that law enforcement officers are trained to investigate crimes, and that some officers or detectives are experts in interrogation techniques. If you are questioned as a suspect, the law enforcement officer is seeking information and/or leads with which he can find sufficient evidence/probable cause to arrest you. Often, in this search for evidence, rules are bent and statements, possibly your statements, are taken out of context in order to enhance the probability of a conviction. Law enforcement officers are considered professional witnesses. This places anyone questioned at a great disadvantage since any discrepancies between an officer's testimony and an ordinary citizen will largely be construed to favor the officer.
Frequently law enforcement officers will use statements such as "I just want to get your side or the story.", "I can let the State's Attorney/Prosecuting Attorney know how you cooperated and request he go easy on you", "I'm here for you and I'm on your side." The fact remains that the officer is in search of evidence to implicate you or use against you. If the officer had enough sufficient evidence/probable cause to arrest or charge you, the officer would have already done so.
Generally, Law Enforcement officers have no authority or ability to cut deals so that it "will go easier on you." Only a Prosecuting Attorney has that power.
It is extremely important that you remember that you have the right to REMAIN SILENT. You should tell all police officers or other government officials that you want your attorney present before any questioning takes place. You should contact an Attorney to ensure that any interviews or questions are conducted in a controlled environment with your Attorney present.
Police are allowed to tell lies! The law allows police to lie as an investigative tool.
Law enforcement officers have no duty to tell you the truth. This gives law enforcement officers the opportunity to DECEIVE AND LIE TO YOU. They may attempt to lead you to believe that they have evidence implicating you in a crime. They may say they have evidence implicating another in a crime.
Each of these deceits, tools/LIES are designed to trick, manipulate or coerce you to make statements. Furthermore, statements that may seem favorable to your position could be extremely damaging. It is important to think of every single word you say as a piece of evidence that law enforcement officers can use to build evidence/probable cause to determine whether you are guilty of a crime or not. The least amount of evidence that you provide, the better.
Remember… anything you say can and will be used against you!!!